Have you ever wanted to take your first step in Real Estate? Get started right away helping a local investor find properties!
We're Here To Help You Succeed
Work on YOUR Time
Find properties with as much, or little, of your time as YOU see fit. No bosses telling you what to do or when to do it. This is the ultimate side hustle.
You will set up a FREE login to our Deal Machine app, which lets you put properties in the system and track what happens.
No Experience Required
Earn with little or no experience in Real Estate. Just find properties that look like they might have neglected repairs or maintenance and let us do the rest.
Get a Fast Start in Real Estate Investing
While it may sound too good to be true, you can earn money in real estate, risk-free, by committing nothing more than your time. It's a perfect opportunity for those who are interested in earning extra income and learning about investing through part-time or weekend work.
The truth of it is, real estate investing is an extraordinary path to financial freedom, but not everyone has the money or the credit to invest in education or properties themselves.
But there is a risk-free way for you to start. In fact, many full-time investors started out by finding properties for other investors as a way to learn the business, earn extra cash, and take their first step toward their OWN financial freedom.
Becoming a Deal Finder Allows You To...
Receive a FREE Special Report when you sign up!
This is the best way to learn without putting your money, credit, or job on the line. We're experienced real estate investors who understand you're ready to earn extra money and learn about the best wealth building business in existence without risking anything.
Think that sounds too good to be true? Fill out the form below and we'll schedule a call to show you why it's more than possible, it's already happening for people like you. Don't you think it's time to take your earning potential to the next level? Complete the form and we'll be in touch.
When you do, you'll also get our special report, The Property Finder's Guidebook: How To Easily Earn Risk-Free Money In Real Estate. It covers the in's and out's of getting into real estate without buying, selling, fixing, or putting your money and credit on the line.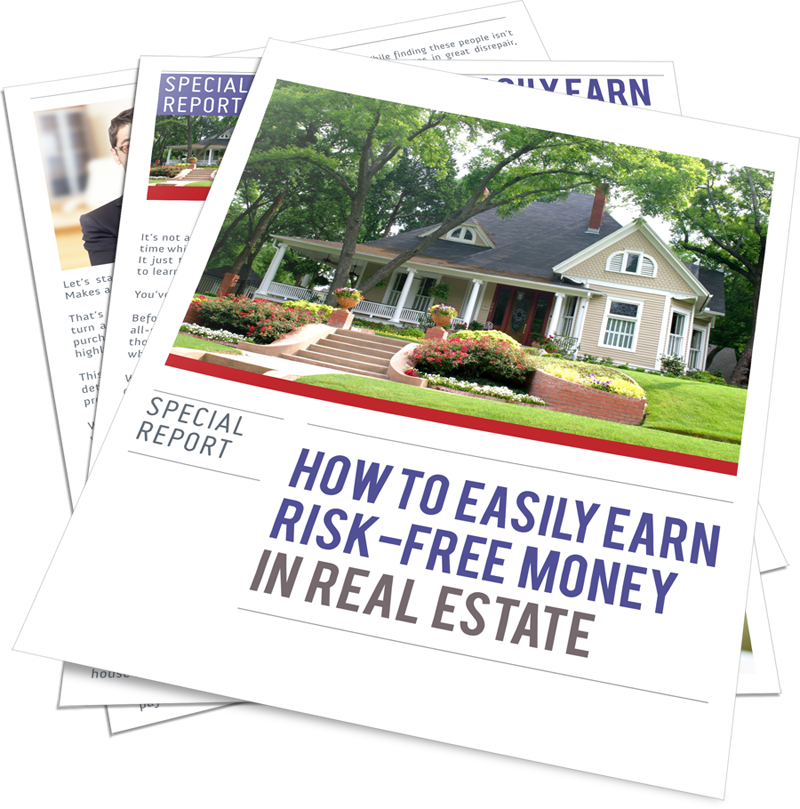 What are you waiting for? Get Started Now!
There is no time like now to join our growing team of Deal Finders. Many industry veterans got their start helping more seasoned investors find deals. Join our team, find properties, and learn how we buy Real Estate.